How to Plan and Host a Holiday Cookies Exchange Party
The holidays are a time for family, friends, and of course, delicious food! If you're looking for a fun and festive way to celebrate the season, why not throw a holiday cookies exchange party? Here's how to plan and host a holiday cookies exchange party that will be your season's highlight!
I've been hosting one every December for over 30 years, and for me, it is one of the best of the season.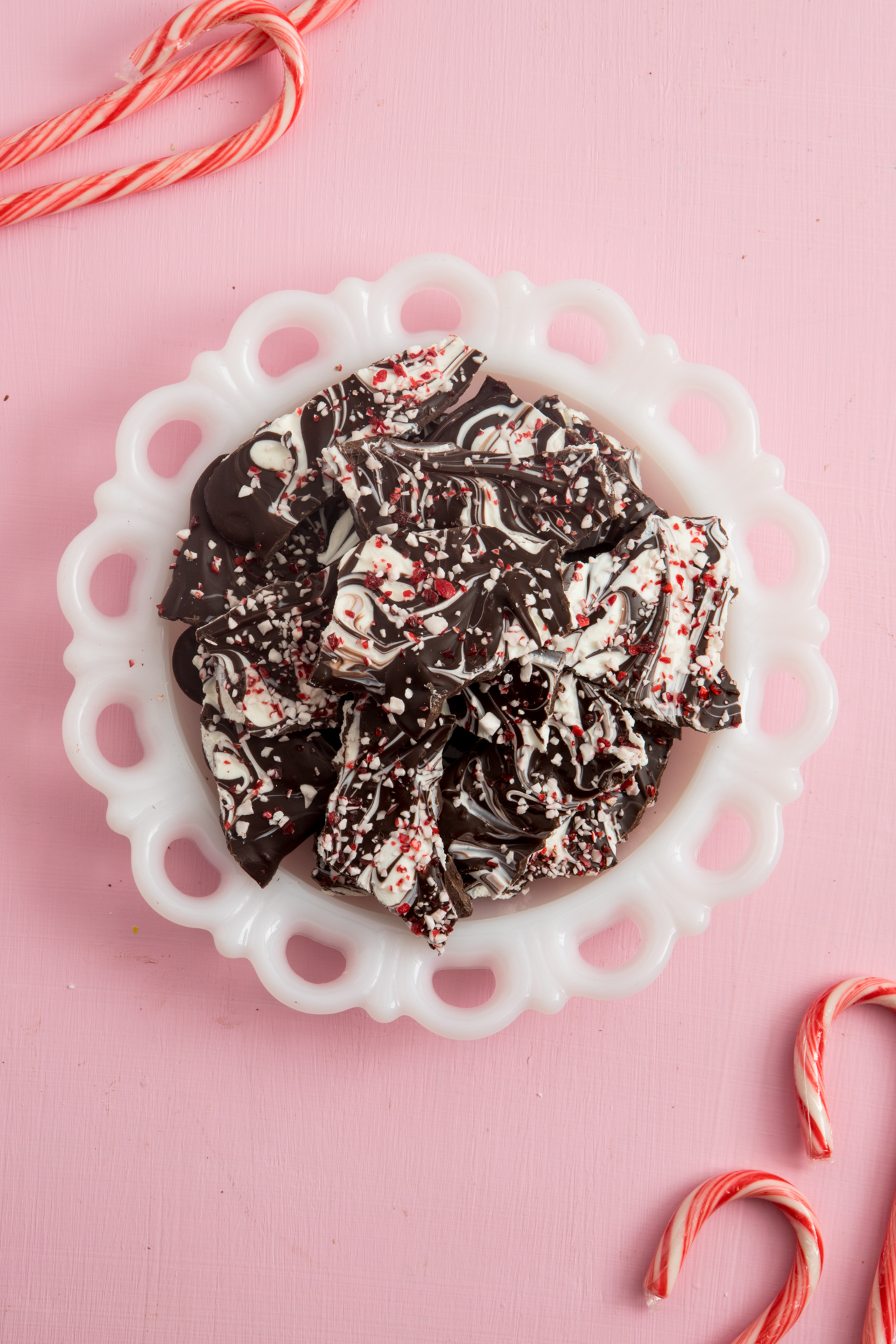 Here's why I think planning a holiday cookie exchange party is a great idea:
Spending time with Family and Friends
For one, it's a great way to get friends and family together. What better way to celebrate the holidays than by spending time with those you love? We all are running a million different directions through the holidays, and it is a fun time to be festive, but we need to pause a bit to enjoy each other and chat, instead of only ticking things off a list.
Getting a Variety of Cookies
Another reason why I love a cookie exchange party is because it's a great way to get a variety of different cookies. Sure, you could just bake a bunch of different kinds of cookies yourself. But why not let everyone else do the baking and enjoy a variety of Christmas cookie recipes?
Showing Friends Love
Finally, I think cookie exchange parties are a great idea because it's a great way to give back to friends and show them how much you appreciate their friendship. Not only are you sharing the joy of the season with friends and family, but you're also giving them the gift of delicious holiday cookies!
I also host a lunch for my friends at my cookie exchange, but I do love to cook and that might not be the best choice for you if you don't.
How to plan the perfect cookie party
In this blog post, I will share tips on how to plan the perfect party for you to actually enjoy. We'll discuss everything from setting the date to sending out invitations, and what used to work but no longer does.
So read on for all the information you need to throw an unforgettable cookies exchange party!
Planning Your Cookie Exchange Party
You can do this as easy or as in depth and planned as suits you. There are lots of cookie exchange ideas out there, but the best ones are where you (as the hostess) can enjoy yourself with your guests!
Choosing your time of day to hold your party might help you to decide how you want to plan it. Will this be a one time thing or a new holiday tradition? I do mine as a luncheon, but you might want an evening Christmas cookie exchange that focuses on the perfect sweet treat and some wine.
You could have light snacks, and Christmas cookies, and call it good. Just consider your guest list, and what time of day are they best available, and put a fun twist on your planning.
How many guests you invite will also depend on the amount of room you have for hosting holiday parties, or how many friends you have that are willing to bake Christmas cookies!
Just make it easy for everyone to come and enjoy the time, and if they aren't bakers, they can always bring another edible gift to swap.
Should you do cookie exchange recipes?
When I first started having a Christmas cookie swap, I had everyone bring a copy of their favorite Christmas cookie recipes, but that was before the internet.
Now that everything is so accessible, and anyone can find any Christmas cookie exchange recipes online with a quick Google search, I gave that feature up long ago.
For me, I really want my friends to enjoy the holiday season and look forward to this cookie swap, so I keep it simple.
Holiday Cookie Exchange Rules
My big rules for the day is come hungry, and enjoy yourself. Even if life is too hectic, and you can't make homemade cookies, just come for lunch and the camaraderie.
The important part for any party is enjoying friends! During the holiday season, when things can get especially hectic, everyone really loves to sit and chat and catch up. The cookie exchange is secondary to the friendships.
Of course, most everyone loves the Christmas cookies part and looks forward to filling up their Christmas cookie tray.
I recently had one of my friends tell me that her husband is always asking her when the cookie swap is, no doubt anticipating digging into those yummy, chewy cookies she'll be bringing home!
When to Plan your Holiday Cookie Exchange
I usually plan my party mid-December, when everyone is feeling the festive season, and when they most likely would need tons of cookies to share with family and friends.
In the past, I would send out beautiful invitations via snail mail early in the season so they had time to get their cookie exchange recipes going, then it changed to email invites.
Now, with technology being such a big part of daily life, I will send a save the date a month or so before, via text message, along with several reminders throughout the month and as we get closer.
A few days before, I will send a final text with a reminder for them to remember that extra cookie platter. All my friends pretty much know the drill, but every year I meet new people and there is usually at least one new cookie swapper each year!
Christmas Cookie Ideas
We always get a wide variety of cookies at the cookie exchange. Some of my favorites include those powdered sugar balls (my mom used to make something similar), peanut butter blossoms (you know, the peanut butter cookie with the chocolate kiss), chocolate chip cookies, holiday sprinkles cookies (whether with green sprinkles or both festive red and green sprinkles), sugar cookies with royal icing, gingerbread cookies, shortbread cookies with crushed candy canes, a snickerdoodle with the cinnamon sugar topping, and many more.
There have been tons of decorated sugar cookies, thumbprint cookies, peanut butter blossoms with a twist, candy cane cookies, cookies made with white chocolate chips or cranberries and orange zest! I'm a sucker for anything with a cream cheese frosting.
There are always cookies for the chocolate lovers (that's not me!) or some with spiced dough, decorated Oreo balls, and many with red and green sprinkles. We've seen some surprise ones with the chocolate kiss on the inside, a few too overly sweet for me, and even some gluten free options!
It is best to consider those that must be gluten free so you have some food and cookie options for them as well.
We bring in the professional
The last 10 years, we have had a major highlight to our Christmas cookie exchange, which is my daughter-in-law!
She is a professionally trained pastry chef, makes the most amazing tasty treats, and I cannot get enough of her delicious recipes.
Her sweet royal icing decorations are seriously professional and are the most tender cookies ever! Now that they have moved back to Michigan near us, everyone knows to look out for whatever irresistible treat she has brought, and it's usually pretty obvious which sugar cookies are hers.
Food ideas for a Holiday cookie exchange
If you've been following along at all for awhile, you have probably discovered that I am a total foodie and love to eat. But friends and family around good food, has always been one of the beginnings of great memories, so I'm usually in to cook for a crowd if I get the chance.
My idea for a cookie exchange party began way back like 30+ years ago. I can't even remember if it started the way that I do it now, but it is something we all look forward to during the holiday season.
In decades past, it was more focused on Christmas cookie recipes, but now it's all about enjoying friendships, eating a yummy lunch, and pausing from the seasonal sprint.
Lunch, anyone?
So now I provide lunch for everyone. I always do a soup and salad bar type of offering. Everyone shows up with their favorite Christmas cookies on a platter having made a few dozen cookies, along with an extra cookie platter to make the exchanging part easier to start.
We all enjoy lunch and gab first, taking time to catch up on our lives. After about 60-90 minutes (I don't hurry anyone because everyone loves to enjoy themselves, but we do keep it to a time limit so everyone can get back to their hectic holiday schedules), we begin the cookie swap.
Because I make a huge lunch for everyone, I usually end up doing a quick no bake treat like Oreo balls, or pretzel snacks where you melt a Rolo on a pretzel and top with an M & M. They really are the perfect treat (who doesn't love chocolate, caramel, and pretzel?).
There have been years where I'm feeling on top of my game, so I do bust out one of my favorite recipes for delicious cookies now and again.
What's for lunch?
As I said, I always make a soup and salad menu for the cookie exchange. And there certainly are Christmas Cookie Exchange recipes that are my go-to's like chili, taco salad with my famous avocado ranch dressing, and a crowd favorite Asian Chicken Salad. Mainly I offer a variety of salads.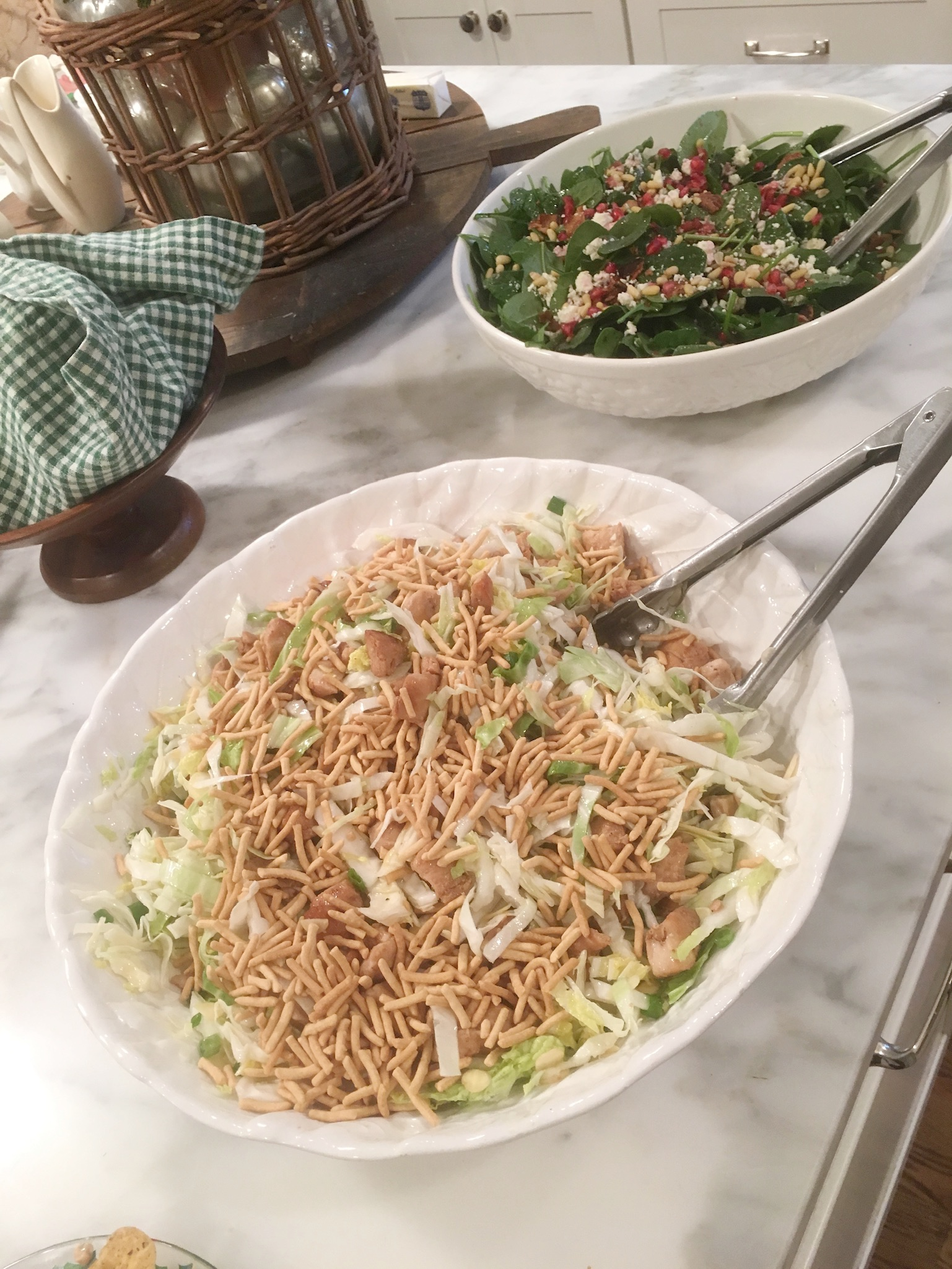 The salads will be different lettuce bases like; spinach leaves, iceberg lettuce, or cabbage. Then I will do two soups, like chili and a vegetarian soup like Tomato Basil. I always do one vegetarian salad and soup for those that have diet restrictions.
Sometimes we throw that word 'diet' out the window, and make a pan of mac and cheese or another yummy pasta. I even made lasagna once and coupled with my golden brown garlic bread, that was a good year indeed. Hmmmm yummy!
The holidays sure are fattening. But what would the cookie exchange be without yummy food?
The Ultimate Cookie Exchange
After lunch, we lay out all the cookie platters on the dining room table, and gather round with our empty trays to swap all of our Christmas cookies. I love to use my big milk glass chargers to layout the cookies, if friends need space in their boxes. Read more about milk glass here.
We all walk around the table, picking up a few of everyone's cookies as we go around. Most people don't pick up their own cookies, but some do. We rotate until everyone has tons of cookies and all the original platters are empty. 
Some years I have even made small party favors for my friends to take home. Don't feel like you have to do something like that because really cookies and friendship are the focus of the day, but I do enjoy that extra touch when I have a year where I'm feeling super crafty and organized.
Last year I got some great old barnwood from one of my son's barns and made a small tree for everyone. I used the barn wood as the base, and purchased a bunch of evergreen trees from the dollar store. Each one was unique, and my friends loved picking the ones that suited their style.
Just Focus on Pleasing Your Guests
I hope you have enjoyed these cookie exchange ideas. There are so many ways to enjoy your guests, whether you want to serve a meal or just quick treats, swap cookie recipes or just enjoy all the goodies! Check out how I get ready and decorate for Christmas before my cookie exchange party.
So if you're looking for a fun and festive way to celebrate the holidays, why not try one? Cookie exchange parties are super fun and a great way to get lots of different Christmas cookies to share with your family and friends.
Don't stress about it, just do what is simple for you. I guarantee you'll have a blast, and everyone will be asking you next year when your next cookie exchange will be! For help making the holidays even easier, check out this post about creating a holiday gift wrapping station.
Check out my Pinterest board for holiday cookie inspiration. I have some great budget favorites in my Amazon shop that work great for gifting friends around the holidays. Check it out!